Episode 5 of my Mysterion comic series
About this creation
Production note:
Welcome back to the second half of this season. 3 incredible adventures await you and this one is special. We see an old Mysterion object again, i used a gif-animation first time and the story is also a crossover with the Archeogenis theme by Yuri Fassio. Background information are linked. Unfortunately there were 5 pictures planned, you can't find here. When the set was deconstructed i noticed, that i forget to make them :( Enjoy.

---



Today, an important event will happen at the U.M.R.-Center. Doctor Adrian Lentz from the MAOX Bio-Research institute, Archeogenis, arrived on earth to help in an unique experiment. But Olivia Johnson is busy as usual...



Olivia Johnson: "Other women don't work so much? OTHER WOMEN DON'T HAVE to rescue the world, IDIOT! ... Mark, if you can't understand, what i am doing here, then file for divorce if you want! I don't care if you are angry. The big test today is stressful enough. You know, a Mysterion fleet could arrive our star system every week and we still haven't an idea how to communicate with them. You should be proud, that you have a wife doing honorable things, grr..."
Assistant #1: "Err, Mrs. Johnson. The Archeogenis team is awaiting us at the testfield. Everything ok?"
Olivia Johnson "Yes... i come!"

Later, outside the building but still on U.M.R.C. area...


Adrian Lentz: "Cole, did we bring the box of the prototype hyper-stem cells? And normal spare parts, too? Ok, then go check the WM-03. Oh..."
Mark Devine: "Mh, we're watching this useless box for months now without results. The best scientists of earth. I don't think, that Archeogenis could do anything better..."

The boss arrives...


Olivia Johnson: "Welcome, Mr. Lentz. I heard you was successful in using our research results of Object 695? Maybe today, your company can help us."
Adrian Lentz: "I'm happy to meet you, Mrs. Johnson. I'm sure, but making Mysterion technology usable is a longer process than analysing it. But we were lucky to invent the MALE array (Mysterion Arc Lightning Emitter). Well, don't waste time. I want to say, i like the earth. It's a beautiful day for our experiment, isn't it? May i introduce, Commander Cole Walker. He's one of the best technopaths in our MAOX Psi-elite unit. Without him, we wouldn't be here today."
The chief: "I'm glad, that LaGros can't be here quick enough to watch this experiment. By the way, what will we try exactly?"
Adrian Lentz: "Oh, that's easy. Some months ago, the damaged canopy of object 680 was found on Mars and until now, your technicans weren't able to analyse nor open it. In fact, we still get nothing from it while the Mysterions learn more and more about us. As you know, our labs on Gamah-4 experiments with biotechnology, MAOX scouts found on an abandoned hideout of a long forgotten ancient race. Archeogenis recent bio-tech mechs work with mental supportment of bio-interfaces, which allow Psi-elites to control their high developed mechas only by mind. But the thing is, if we can use bio-technology of an ancient race, we should be also able to control Mysterion devices in an equal way. Some Mysterion weapon technology is already in use by the archeogenis laboratory. That's what we try with object 680 now. Cole will use the bio-interface of our specialised WM-03 "Syssiphous", a normal working mech used in our factories, to hack into possible computer systems inside the canopy. For that, i improved the interface and build it in that mech. Maybe Mr. Walker is able to reactivate the canopy with his mental skills, in best case to open it, too. Of course, only if the damage isn't too heavy yet. If this success, all Mysterion circuitry will be open for our bio-tech development. We will build the biggest ships of all time, i'm not talking of that stupid Galamoth, i'll create things 10-times bigger!!!"

Cmdr. Cole Walker prepares his working unit. But some technicans distrust the plan.



The chief whispers: "The man is crazy. I think he will blow some planets accidently away if continuing experiments that way..."
Carl Meyer: "I'm not sure, if this works. I mean, what if there isn't a functional system inside? The whole thing could be not compatible or whatever. I think, nothing will happen."
Adrian Lentz: "And that's the best of our Psi-elite programm. If the Mysterion technology is organic, mechanic or whatever, Cole's telepathic skills should be the best way to manage any connection to the object if something functional still exists. So, however the experiment ends, at end of this day, we will definately know, what's inside a canopy. Trust me, nothing can fail here."

After some minutes, the exciting test starts...


Cole Walker:"Ok, bio-interface online. The Syssiphous controls are deactivated to focus the controls at object 680. I variate energy signatures to find a sequence working for the object..."



"Let's see, what i can find."



Nothing happens...



But then...



...Cole Walker feels something curious.

Olivia Johnson shouts carefully: "Can you activate the canopy?"



Cole Walker:"HOLY.....!!!"



Not describable, but some strange noises are forming into a few words, Cmdr. Cole repeats slowly:
"PLanET ... ExPLODing ... SOoN"
Then, Cole's hands reactivates the mech controls.

But it's not the object, that acts...


Mark Devine: "Run, everyone! Oh my god, how can we stop him?"
Adrian Lentz: "That's impossible,...i... oh, i had to think about... It's not Cole, who controls the Mysterion, it must be the Mysterion controlling him by telepathy!!"


Carl Meyer: "I try to deflect him, you have to destroy the canopy!"



Mark Devine: "But we can't!! Wait. Ahhh!"



Carl Meyer: "Come! Here i am! Catch me, rusty robot."



Olivia Johnson: "Dr. Lentz, can we deactivate the mech somehow?"
Adrian Lentz: "Of course not, i build undefeatable mechs! And we can't destroy the canopy, too but... maybe we could repair... I have an idea. Follow me..."

Meanwhile, a deadly race over the fields begins...



Dr. Lentz collects his thoughts and get an idea.


Adrian Lentz: "I brought some Archeogenis technology for the case of quick repair need. If we give the object something, with that it can act instead of Mr. Walker, it may leaves us and ends its contact. These experimental hyper stem cells, created by radiation tests, should be able to do. We hoped that they're much quicker for creating body parts than normal ones produced in Xenogenic labs but all our tests failed. I...i thought, that i could use them somehow, so i took the only box of prototypes. They didn't worked for us, but i hardly believe, that i wasn't totally wrong."
The chief: "Are you serious? You'll offer the Mysterion a high-developed bio-technology you don't even fully understand yourself?"
Adrian Lentz: "Doesn't matter, the archeogenis knowlegde is ancient and the Mysterion technology is far more developed...they shouldn't gain any advantage of it...at least i hope so."
Mark Devine: "You hope? The man is crazy!"



Adrian Lentz is grabbing one of the biomechanic parts: "My mech will demolish the whole continent and i have to help Mr. Walker. That's our only chance. So, will you assist me or not? We need some kind of interface to combine this into the canopy."
Mark Devine: "The object was high damaged when we found it, we localised many holes but nothing that bring us into the canopy."



Adrian Lentz: "That's may enough. The intelligent and automatic hyper stem cells i injected in this part will grow into the systems itself becoming part of it. The Canopy does the rest and program them. Of course only if the Mysterion accept this technology."
Olivia Johnson: "Sure?"
Adrian Lentz: "No. As i said, it never worked in our tests but we never tested them in combination with a Mysterion. And we are here for experimenting, not?"



The chief: "Attention!"
Adrian Lentz: "It works. The body cells are growing. It never worked. How's that possible? More parts!"

The technicans works quickly at the canopy...



...while Carl Meyer faces the crazy Mr. Walker and his workingmech.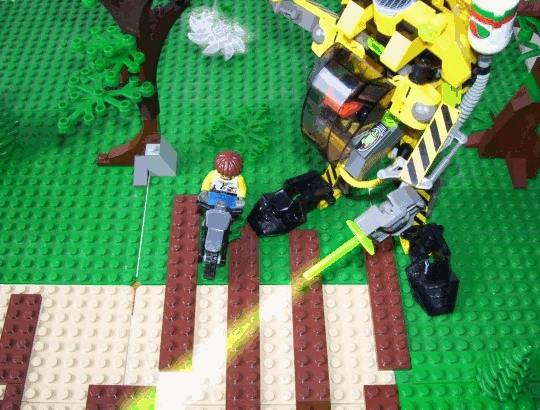 Carl Meyer: "What the...? A boomerang chainsaw? Why does a repair mech need a boomerang chainsaw? Archeogenis can pay what they want, i won't work for this crazy company ever. They should fire this man for that. Oh oh..."

Object 680 reactivates.


Adrian Lentz: "Yeah! Brilliant. I created my own Mysterion! And i don't know how. I'm just genious!"



The object runs away...



...and Mr. Meyer still tries to do so.

A security helicopter follows the Mysterion.


Armyman: "We get it, over... object 680 is walking 2 miles north, it's damn fast. Oh, what's that? It's glowing. Ahhh!"



Armyman:"There was a light, like a flash... it disappeared. Object 680 is away!! over."

At same time...


Carl Meyer: "What happened?"

The medical team of the U.M.R.C. arrives.


Doctor Martin Koch:"Quickly! He needs help!"



Later that day bad news arrive the team...



Doctor Martin Koch: "I'm sorry. We did, what we can. At least, he's still alive but we don't know what happened to him. He is in coma now but i can't say, when or if he will awake. His brain could be high damaged. Maybe he would die if we try to do something, so for moment we hold him in a hig-tech stasis box, where he's sleeping safty"



Olivia Johnson: "We'll keep him here at the U.M.R.Center, our medicins are the best and you'll be informed if something happens, Dr. Lentz. I'm sorry. The L.S.S. Beko is called back to earth and arrives in a few days to escort you and your material back to Gamha-4."



Adrian Lentz:"It was my fool...all my fools. The hyper stem cell project, this experiment. But it worked. All secrets the canopy holded and so most answers to our questions are inside the mind of this man now. Galaxies of wisdom, just in one weak little brain. I hope, he will tell us some one day..."



He may will...
Comments
Add a comment
| | |
| --- | --- |
| | I like it |

January 31, 2010

WOW!!!!!
| | |
| --- | --- |
| | I made it |

November 3, 2009

Quoting Bernardo BLITZ Silva dude, awesome comic, enjoyable to read! has you might know, im makin a comic about MAOX too, soon to be posted in the TTA09, mysterions included :D

I'm awaiting it. Maybe will be nominated for next year, this years nominees are already set but give your votes, please. I need clear results to call this years winners.
| | |
| --- | --- |
| | I like it |

November 3, 2009

dude, awesome comic, enjoyable to read! has you might know, im makin a comic about MAOX too, soon to be posted in the TTA09, mysterions included :D
| | |
| --- | --- |
| | I like it |

October 1, 2009

I have a BAD case of builder's block and I can't contrubute right now... sorry :(
| | |
| --- | --- |
| | I like it |

September 29, 2009

awesome build here! yet another great comic from you!
More from Christian
More across MOCpages