A new episode of the best Mysterion related sci-fi comic. Today we have some soap elements to calm down after the action, but also some mysterious hints.
About this creation


Hi! My name is Adrian Lentz. Doctor Adrian Lentz exactly. And today, i have to make a hard decission, but letís start telling from begin. Previousily, i was responsible for all main projects in the Archeogenis laboratory on Gamah-4, so practically the second man after Mr. Fassio. As head scientist, the ancient stem cell research for Maox was my lifework. Last year the Universal Mysterion Research Center on earth called me and my team for a promising experiment on the inactive canopy of object 680. Things didnít come as planned.




After the possible invasion and the Clarkson affair, which i survived luckily, Mr. Fassio from Archeogenis lab contacted me. As conclusion of my epic fail in the hyper stem cell project and the death of one of the best trained Psi-elites i was fired. So, iím not responsible for AG-biomechs anymore. Instead, a job as technical advisor in the U.M.R.C.-team was offered by the government. So, iím still here on earth trying to organize a new life. And thatís not the only thing, which has changed the last two months...



The department of earth defence has the leadership of the research center now. After some reorganization, staff changed. Not much was heard from Olivia Johnson since. Rumours tell, that her husband Mark left the conjoint apartment. Their relationship seems broken.



After the Beko exploded, its crew was fired, too. Space missions are done by official military ships like the E.A.S. Idiocrazy. Captain Carnway and Mr. Calak are working at a local coffee shop now.



We still have contact. I meet him nearly every morning before work starts. His caramel chocochino is just the best iíve ever tasted.



Back to me now. Iím late and have to hurry. Although iím here since weeks iím still feeling lost. The center is a giant labyrinth of halls, laboratories and offices. Basicly the same as Gamah-4 but somekind itís not what iím used.



By the way, the defence department sent a new boss. General Connel McConnaghal, a strange, bourgeois buerocrate, who was a spacestation commander before, leads the center with a harsh tone. Maybe itís because heís irish, or did he come from scotland? I donít know, those europeans seem to be all the same. And nobody really likes him.
Connel McConnaghal: ďI donít want to hear your problems, Mr. Bishop i need results or the earth alliance has no use for you. Mr. Devine, LaGros, the development of the new MALE-array must be accelerated. We want to beat Maox systems soon, not? Now, go to work, this is no kindergarten party. The president wants success or weíll search better scientists.Ē



Finally, all is prepared for my dissertation. Iím working with the chiefs of technical departments, so Mr. Devine, Mr.LaGros, Mr. Meyer and the chief are my main colleagues. My experiences in analyzing unknown ancient technology at Archeogenis help me to understand new discovered Mysterion objects. Since the mysterious fleet left the sol system and wasnít seen since then, weíre working on countless new information, the earth fleet took.



Lunch time.
Well, i think i found my place in the team and itís an interesting job. More science than destruction although i still feel a bit out of place. Additionally, itís not the same U.M.R.C. i knew two months ago.

Mark Devine: "They closed the whole psychoanalytic department, we are allowed to use the T.H.S.R. not that often anymore because it's blocked for military simulations all the day. Half of my workers are fired and McConaghal controls every paper i sign. This can't go further!"
The Chief: "The defence department is not interested in new knowlegde, they just want strategies to beat Mysterions in battle. But how you should face an enemy you can't understand? I hate military ways of thinking. And under Olivia the climate was far better here, we were a team, not a bunch of slaves."



The whole team is nice and enthusiastic people but most free time i prefer to be alone. The citizen of earth have a complete different culture and way of doing things than in Maox space. In these lunch breaks i often become a bit nostalgic. I canít stop thinking about my old colleagues at Archeogenis, former projects, giant battle mechs and of course my family. And Cole. He was always like a part of it. Like a brother. Do i feel responsible?



All problems started with the experimental hyper stem cell project. I was so sure that it would work and AG would discover the ultimate creation technique. Unfortunately, the whole thing was an epic fail. Mr. Fassio gave me all guilt for the financial disaster. Then Cole directed my attention to object 680, which the earth alliance had stored since months. It looked as the perfect way to improve Mr. Fassioís opinion on me. The first official contact with a Mysterion made by me, i didnít thought of any risks, i just saw the chance, Cole, too. But was i too naive? Should i took more attention, maybe i would have been able to pretend his destiny. Maybe i was able to rescue him. Did i kill him at end?



Let me introduce another big project iím leading here at the U.M.R.C.: No, not this crappy bio-mech i build by old spare parts in Mr. Devines storage hall. About one month ago, a debris field of unknown origin was discovered by M-Tron scouts. It layed exactly on the former course of the Mysterion fleet so it was quickly clear, that the wreckage parts have to belong to a Mysterion object.



The parts were brought to earth and we are still sorting the crap. Most parts are burned or canít be fully reconstructed. The speciality is, that this time we donít have a canopy but countless heavy damaged pieces, so maybe the canopy is here but in small pieces.



We called it object 699. According to the mass of debris and compared to older finds we assume, that it was at least a twinsterion instead of having only one canopy. It was also equipped with powerful weapon systems because we found several traces of energy sources, many devices exists twice. These are strong hints for a battleship. So, for president Clarksons men, the armory has the highest priority.



To decode the complete ship will surely need many months but a first theoretical reconstruction of the shape is done. Why the ship got destroyed is unclear. But the M-Tron reports proove that it must happened days or even weeks before the fleet reached the earth. So, the agressor wasnít an earth alliance vessel. I canít solve that riddle now but thereís a more mysterious thing in these debris.



We found different small parts of unknown material, ok thatís nothing special in Mysterions, but those angular pieces donít seem to belong to the rest of the ship. The three-coloured edges must be components of the destroyer of object 699. But finally, we donít know what really happened out there.



A long day is over and most people gone. Tommorrow, my deadline is at end and so, i have decided.
Adrian Lentz: ďMr. McConnaghal, excuse me sir?Ē



Connel McConnaghal: ďAh, Dr. Lentz. A beautiful night, isnít it? The stars are looking completely different than in the system i worked before. Itís more like beeing home. You wanted to talk me? Something about Archeogenis?Ē



Adrian Lentz: ďWell, Mr. Fassio offered me a new job. At the Admin Carrier Galamoth , i can work at the Rig Veda project. I thought about it many days but... i decided to go back to Archeogenis, at least for a while.Ē
Connel McConaghal: ďYouíre leaving? Didnít you say, you would be honoured to work in a research team finding out about Mysterion technology?Ē
Adrian Lentz: ďYes. But, i...i donít belong to here. My desire is creating Biomechs. Also, this isnít the job i hoped for, i was wrong. We donít research anymore in an independent civil way. Sorry, but i am not willing to prepare the earthís army for a Mysterion war."



Connel McConaghal: ďMaox is building its mechs for wars only. Whatís the difference?Ē
Adrian Lentz: ďThatís what Maox is doing. Weíre offering mercenary actions. But at least i know, for what we fight, on which side we are. And that arenít political decissions, itís buisness. Here, i donít know anymore, what the earth alliance stands for...And, maybe iím not honest to myself. The truth is: I have my friends there, my past, my family. My son Hieronimous and my halfclone Buzz await me. I think, i just avoid them, thatís why iím here. After Coleís death i tried to run away. I thought, if i leave Maox i would forget it all, but it doesnít work. My life is in Archeogenis, on the Galamoth, where my family can live, too. Iíll leave tommorrow, sir.Ē



Connel McConaghal: ďKeeping a family is the most important thing in life. If you just have your work, you have nothing. Iím disappointed that you didnít talk with me before but i accept your decission. You was a great enrichment of our team. Good luck and may Zordor have an eye on you, Dr. Lentz.Ē

Adrian Lentz: ďThanks.Ē



Heís right. The stars are different here.



Before packing thereís one last thing to do. Nearly i forgot, but: I still have a date. Sandra. I have to explain me to her. We first met on space port just before i was shoot up to the Beko. I would have forgot that short moment at the bar quickly after returning to Gamah-4 but as you know, things came different. While i stayed on earth we met several times after work, i could say, she was my only private contact, becoming a good friend in that short time. Well... honestly, she was much more than that.



She wasnít really happy while i was talking. I assume that most women donít like to hear that youíll leave her and go back to your family.



Tomorrow iíll leave earth and iím not sure if iíll come back once. Maybe itís really the best, iíll miss the U.M.R.C. but also have a strange feeling that this isnít the best place to stay.
Anchorwoman: ďWelcome to Galactic News on TV2, we have the 6th February and hereíre the breaking news. Capital City: President Clarkson has revealed his new agenda for military reformation. He plans to build up independent forces more and skipped all Maox contracts from now on. Itís a historic turn because maox branches support the earth alliance with mercenaries and technology since nearly hundred years during the last big war with the coalition of planets. We have a military expert from Blacktronia. Welcome and thanks for coming, itís surely hard because Blacktronia is on the edge of civil war as i heard. But thatís not our topic. So, what do you think about Clarksons agenda?Ē



Blacktron expert: ďItís nonesense! Clarksons agenda will ruin earth colonies. First, Maox is a much cheaper alternative to own fleets and a long-time partner. They brought us the most modern technology and knowlegde, we wouldnít even have plasma weapons without them and still flying in propeller driven old VTOLS. Secondly, the new military plans canít be payed. Also, we donít have enough ships yet. We need Maox for defence!Ē
Anchorwoman: ďBut we have peace...Ē
Blacktron expert: ďReally? Clarkson signed a useless neutrality contract with some C.O.P. generals but if you ask me, they just payed him while border colonies are still in fights waiting for support from earth forces. And whatís with the Mysterions? Couldnít they come back? I know, the Krill discovery is far away in Maox space but we know, their hive ships will travel further and one day reaching U.N.E.ís space, too. And theríre other threats around us. The president wants independence but canít safe our security by his ignorance. Maybe in another parallel universe we are a great empire but the last wars weakened our position in interstellar affairs, this peace is not stabil. Loosing partners canít be the right way.Ē
Anchorwoman: ďSo you answered my last question, too. You would support senator Michael Abdullah Obama in the coming elections, right?Ē
Blacktron expert: ďThe other candidates are all the same: idiots. But you can be sure: John Gilbert Clarkson is the worst president since the third clone of Richard Nixon in 2740!!!Ē



On one side, iím glad to see my family again. And working on Archeogenis projects is a fantastic job. But on the other hand i still canít sleep that good. Too many thoughts are flowing through my mind. Was i able to rescue Cole? Did i make a mistake with the hyper stem cells project? Nevermind, iím talking nonsense. The project failed, what should the Mysterions do with it?

[At same time, somewhere in the galaxy...]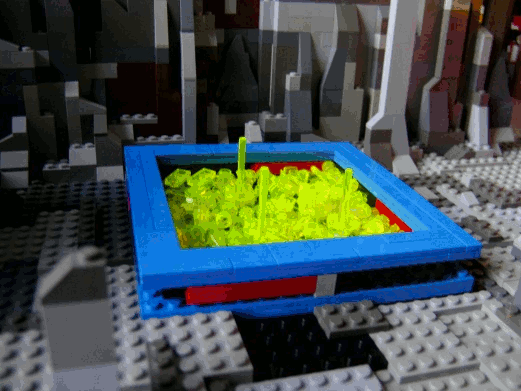 In a dark cave, an experimental pool waits for its destiny. Slowly but steadily, a canopy is formed.



[On a flying magnetic rail, which leads through endless tunnel systems, object 998 is coming to view the new work. The metallic claws jump down to grab the yellow canopy. As fast as 998 came, or letís say the working unit of the whole 998-system, it disappears in shadows.]



[Itís not the first success. Mysterion technology analyzed the AG Ėstem cells in object 680 and with its help, they increased the production rate of new Mysterions. In fact, a new step of development was reached.]



[This way, in just a few weeks several canopys were created.]



[Theríre dozens of them...]



[Hundreds...]



[Or even more...]



[The next morning, the U.M.R.C. main staff says goodbye.]

Adrian Lentz: ďItís time, the Galamoth is waiting. I just want to say, iím proud to was part of this project and wish you all luck. Although Maox wonít support anymore,... what i mean, whatever will happen, you all can be sure, that you have a friend at Maox. And youíll keep beeing my friends.Ē



Connel McConnaghal: ďHEY! What are yu doing here? We have to work. Mr. Clarkson wants the weapon systems of object 699 in 6 months prepared for mass production. Hurry or youíre all fired!!Ē


---

Production notes:
-Special Guest star: Adrian Lentz created by Yuri Fassio This episode closes the crossover- subplot started in season 1 for a while.
-Archeogenis backgrounds based on Yuri Fassio
-Itís the second episode which uses a gif-animated picture, i plan to make one in every season, itís fun to make but decrease the picture quality.
-The next episode comes february, 14th.
-Discuss and critizise the series in detail here; and of coure rate and comment ;)
Comments
Add a comment
| | |
| --- | --- |
| | I like it |

February 18, 2010

Excellent chapter! I love the Starbricks sign!
| | |
| --- | --- |
| | I made it |

February 11, 2010

Quoting Mister Bones Excellent work, as usual. The Starbricks logo was priceless! Where or how did you do that? I must have one!!

Sticker motives in my "All Stuff" folder
| | |
| --- | --- |
| | I like it |

February 11, 2010

Excellent work, as usual. The Starbricks logo was priceless! Where or how did you do that? I must have one!!
| | |
| --- | --- |
| | I made it |

February 11, 2010

Quoting Jonathan Ladner BTW are you going to make a story line for my race? I'm just clarifying cuz i can't believe it :D

Thanks for your comment. Yeah, i may have an idea for the Photythings but not in this series, at least not for the moment. I would make a short story explaining how they got to space etc. when i have time.
| | |
| --- | --- |
| | I like it |

February 11, 2010

Lolz, first of all i love how you tied all the different groups together in this story and stuff about the mysterions. Anyways overall this was great :D BTW are you going to make a story line for my race? I'm just clarifying cuz i can't believe it :D
| | |
| --- | --- |
| | I like it |

February 7, 2010

Very nice, i like the minis of the mysterion fleet.
| | |
| --- | --- |
| | I made it |

February 7, 2010

Quoting Yuri Fassio you pinned perfectly the essence of what is MAOX.

Thanks. In fact, Maox support is the main difference between UNEverse and Earth alliance in this timeline. I'll look for your carrier and plan an own one, too.
| | |
| --- | --- |
| | I like it |

February 7, 2010

Masterfully written. Object 699 is awesome, and you pinned perfectly the essence of what is MAOX. AG will miss UMRC's help, that's for sure. And, thank you. you game me the push I needed to finish my short comic, and maybe even my Mysterion Carrier.
| | |
| --- | --- |
| | I like it |

February 7, 2010

sweet! you used tons of great techniques in this!
| | |
| --- | --- |
| | I like it |

February 7, 2010

AWESOME!!!!!
| | |
| --- | --- |
| | I like it |

February 6, 2010

You are really the wiz with editing. Nice plot shape so far.
More from Christian
More across MOCpages